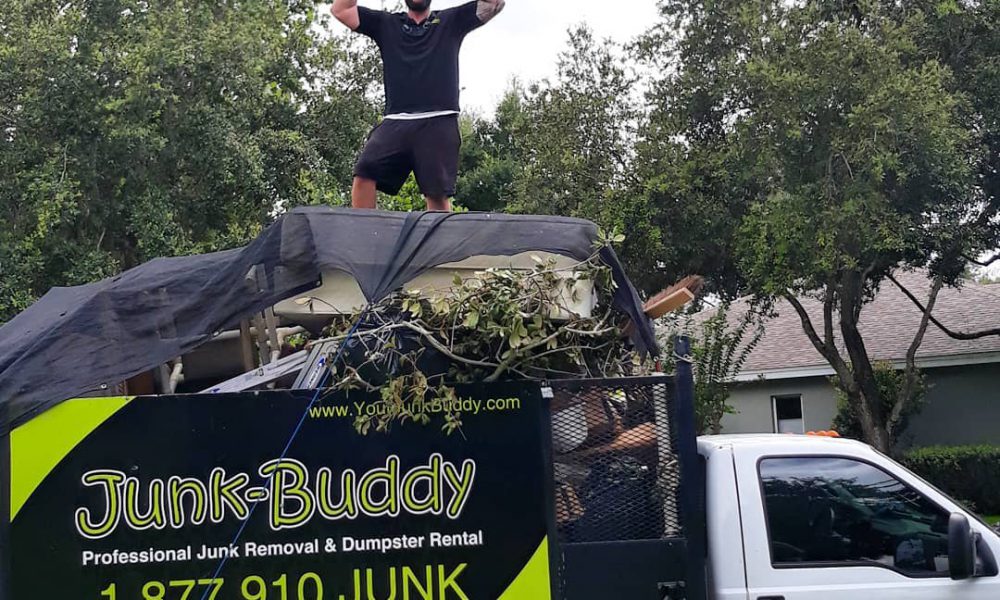 Junk Buddy is one of the top junk removal service and dumpster rental companies with over 500+ 5-star reviews! We are located in beautiful Palm Harbor, Florida, and service the following areas:
Tampa Bay
Pinellas County
Pasco County
Hernando County
Orlando, Florida!
Junk Buddy started in 2015 with 4 trucks and continues to operate with the same focus as we did then: treating our clients like we would like to be treated. Our team of employees is fully-trained, licensed, and insured.
For each job, we assign one or two team members who provide an up-front price, handle all aspects of junk removal, including lifting, loading, and removal, and even sweep up the area once the job is complete.
Our removal process consists of recycling, donating, and taking the remaining items to the correct facilities for proper disposal. Operations are Monday through Saturday and typically we are able to provide same-day or next-day junk removal service.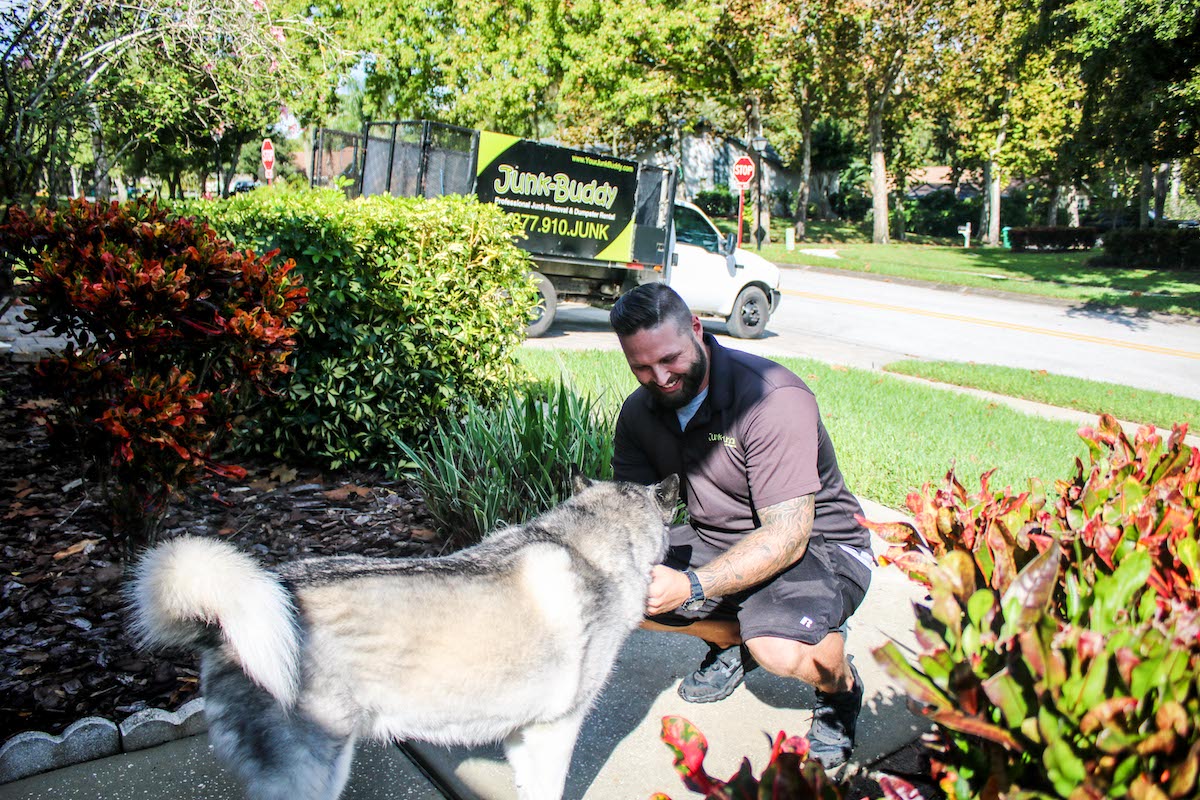 What Should I Look For When Hiring a Junk Removal Service?
Are they local?
Are they licensed and insured?
Have you checked out their Google reviews and ratings?
How does their price compare to similar companies?
When hiring any type of service, it's important to have a company you trust working on your property. Opting for the cheapest junk removal service may not always be the best option. Chances are they lack proper insurance or licensing, and there is a possibility that they may not even show up for the appointment! Our team at Junk Buddy will offer a fair price with excellent service. We have an exceptional reputation and take pride in making sure your junk removal experience is flawless.
How Much Does Junk Removal Cost?
One of the most frequently asked questions about junk removal from homes or businesses is how much it will cost. The average expense for hiring a junk removal service can range from $100 – $800 and is influenced by several factors including:
Location
Amount of junk to be removed
Fuel cost
Disposal fees
For instance, the cost of junk removal in Los Angeles, California will differ from Tampa, Florida.
We did some research to find out how our pricing compared to other national companies. Below are our findings:
| | | |
| --- | --- | --- |
| | Junk Buddy | Other National Companies |
| Starting Price | $135 | $149 |
| ½ Load | $479 | $499 |
| Full Load | $679 | $749 |
*Research on price was done in February 2023 and is based on calling national companies and online research.
On average, the cost of junk removal services is around $289, but this may vary depending on the amount of space occupied in the junk removal truck. Our junk removal truck is 16 cubic yards, which is equivalent to roughly 8 pickup truck bed loads! We also have one regular pickup truck that we use for smaller jobs. Additionally, light demolition projects such as removing a shed will incur an extra cost due to the labor involved.
Bulky items can take up quite a bit of space in our trucks. To give you a better idea of the cost, we have put together a brief pricing summary for common bulk items we remove:
Regular couch removal $120 – $160
Mattress and boxspring $189 – $289
Hot tub removal $350 – $700
Garage clean-out $289 – $560
Should You Pay For a Junk Removal?
If you're contemplating the removal of your junk, you may be questioning whether it's worthwhile to hire someone else to handle the task for you. It's important to weigh the pros and cons of paying for a professional service to haul away your unwanted items. To help you decide, here are some things to consider:
When do you need the junk gone?
Are the items heavy?
Is there a large amount that needs to be removed?
Do you know where the items need to be disposed of?
Will you have time to do it?
The Benefits of Paying For A Junk Removal Service
If you decide that hiring a professional junk removal company is the way to go, here are some advantages to doing so:
You avoid possible injury
Typically a same-day or next-day junk removal service
Saves you time
Eliminate the hassle of finding the proper location to dispose of your junk
Ways To Save Money When Removing Junk
There are a few ways you can save money on expenses when you need to dispose of your junk: Garage sales, donation pickup, or giving away items to friends and family members. Junk Buddy provides various cost-saving options, such as discounted rates for curbside pickups, online booking promotions, and seasonal specials.
Junk Buddy Removes Almost Any Type of Junk
If you've decided that hiring a junk removal service is the way you want to go, Junk Buddy provides an easy solution for hauling away unwanted items. From old appliances and office furniture to yard waste and electronics, our services will help clear out the clutter that may be causing stress and anxiety in your home or business. Here are some examples of the items we can remove and the types of cleanouts we offer:
Furniture removal
Construction debris removal
Yard waste removal
Appliance removal
Shed removal
Hot tub removal
Playground removal
Garage cleanouts
House cleanouts
Condo cleanouts
Apartment cleanouts
Storage cleanouts
Office cleanouts
Non-hazardous items
And more!
Unfortunately, we are unable to take paints, chemicals, cars, and tires on rims.
How to Get a FREE Quote and Schedule Services for Junk Removal
At Junk Buddy, we will provide you with a free, no-obligation quote on-site. At the time of your quote, if would like to go ahead with the service, we can remove your items right then and there!
If you are just looking for general pricing, you can check out our website here. You can also book online or call 1-877-910-5865 to set up a quote!
No matter if you have a couch or a full house cleanout, Junk Buddy is able to take care of your junk removal needs at a fair price with amazing service!