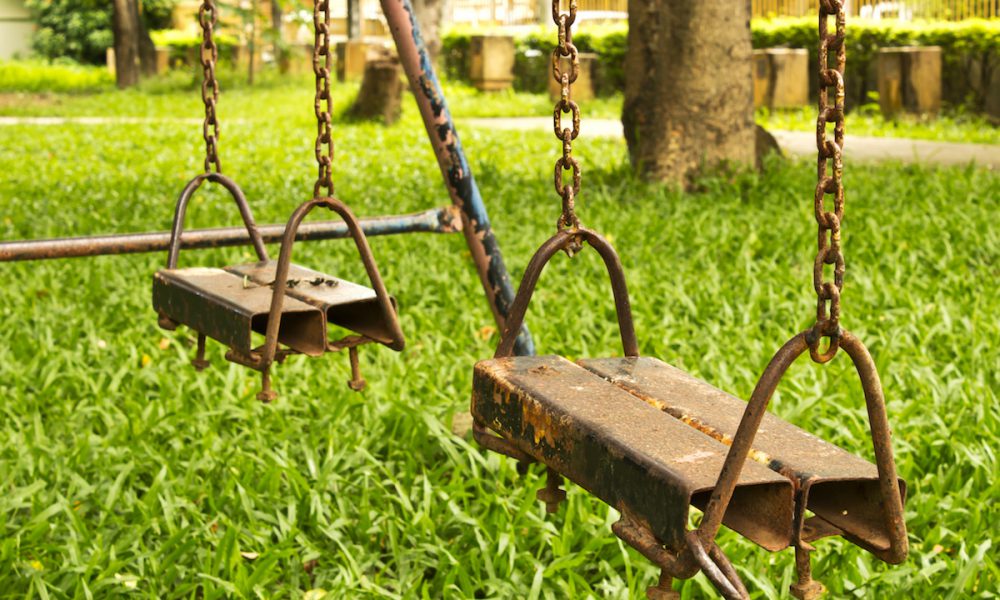 Are you in a situation where you just moved into your home and you have an old playground taking up a ton of space in your backyard and you have major plans that don't include that eyesore? Or, are you recently empty nesters and want to make a spa retreat backyard and need to remove the family playset?
Now, you need to move this big piece of metal that has cement holding it in and lots of moving parts.
Relax! It can be a daunting task to have your playground removed if you try to do it yourself. Hit the easy button and select a Junk Removal specialist that is trained to meet your needs, break down and remove the playset that once served your family in a safe and professional manner while respecting to your home and property.
Considerations:
Not only is the process very labor intensive, but once your playground broken apart, you'll need to think about:
How to break it apart?
Where to haul the pieces?

What vehicle will it fit in?

Where to responsibly dispose and/or recycle the various parts?
What to expect on your playground removal appointment:
Professional uniformed truck team will arrive on time
Access the playground and the safest way to remove it
Provide your free no obligation estimate
Remove the playset
Clean the area
Haul it away for proper disposal & recycling
Playground Removal FAQS
Do I need to break apart the playground before it gets hauled away?
Let your junk removal service do it.
Will a playground fit in a Junk Removal truck?
Yes, when you contact a professional playground removal and disposal professional, they will have the proper equipment to dispose or recycle your it.
Why Do People Look for Playground Removal?
Whether you are remodeling your backyard, removing the outdated or nonworking eye source, or selling a home with an old playset, chances are you will need to get rid of it. Playgrounds are large, heavy and cumbersome, so hauling them to the dump yourself or putting them on the curb for the garbage collectors to pick up is rarely a practical option.
Which option sounds better to you? Hit the easy button and call a Junk Removal Service today.
Junk Buddy serves Pinellas County, Tampa and New Port Richey and we will provide a free, no-obligation on-site estimate. When you call us, our friendly customer service can give you a rough estimate of prices based on your information you provide, but it's our truck team who will provide an accurate quote when they arrive. You can book online or call us at 727-729-9765. Sit back and relax while our truck team handles the hard work and hauls your junk away.