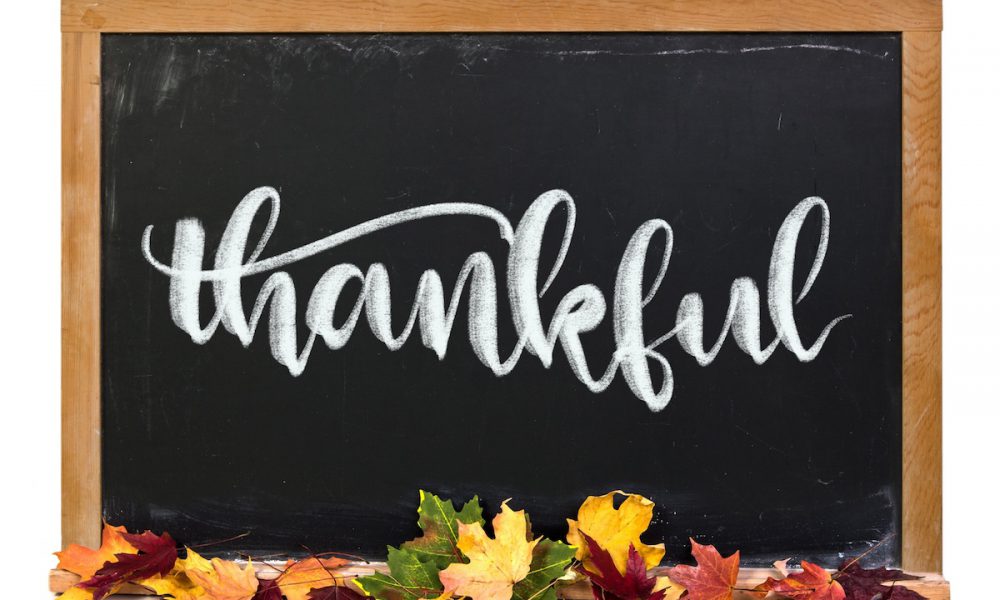 With Thanksgiving almost here, we have so much to be thankful about.
Junk-Buddy is extremely thankful for our:
Many wonderful new and long-term customers
Valued vendors
Talented and loyal employees
The ongoing growth of our business
Working in exciting and beautiful Tampa Bay
The ability to donate to local charities
All of us at Junk Buddy wish you and your family a Happy Thanksgiving!
Gratitude Benefits
Did you know that having gratitude in your heart can help improve your health?
Greater Good Magazine reports that "after 15 years of research, we know that gratitude is a key to psychological well-being. Gratitude can make people happier, improve their relationships, and potentially even counteract depression and suicidal thoughts. Some studies have associated gratitude with a whole slew of benefits—from fewer aches and pains to improved sleep to better cardiovascular health. Gratitude can be an incredibly powerful and invigorating experience. There is growing evidence that being grateful may not only bring good feelings. It could lead to better health." Results from the GGSC's own Thnx4 project found that participants who kept an online gratitude journal for two weeks reported better physical health, including fewer headaches, less stomach pain, clearer skin, and reduced congestion".
"The word gratitude is derived from the Latin word gratia, which means grace, graciousness, or gratefulness (depending on the context). In some ways gratitude encompasses all of these meanings. Gratitude is a thankful appreciation for what an individual receives, whether tangible or intangible. With gratitude, people acknowledge the goodness in their lives. In the process, people usually recognize that the source of that goodness lies at least partially outside themselves. As a result, gratitude also helps people connect to something larger than themselves as individuals — whether to other people, nature, or a higher power. In positive psychology research, gratitude is strongly and consistently associated with greater happiness. Gratitude helps people feel more positive emotions, relish good experiences, improve their health, deal with adversity, and build strong relationships," describes Harvard Medical School.
Ways to Cultivate Gratitude
Harvard Medical School gives us insight into how to cultivate gratitude in our lives. Here is what they recommend:
Gratitude is a way for people to appreciate what they have instead of always reaching for something new in the hopes it will make them happier, or thinking they can't feel satisfied until every physical and material need is met. Gratitude helps people refocus on what they have instead of what they lack. And, although it may feel contrived at first, this mental state grows stronger with use and practice.
Here are some ways to cultivate gratitude on a regular basis.
Write a thank-you note. You can make yourself happier and nurture your relationship with another person by writing a thank-you letter expressing your enjoyment and appreciation of that person's impact on your life. Send it, or better yet, deliver and read it in person if possible. Make a habit of sending at least one gratitude letter a month. Once in a while, write one to yourself.
Thank someone mentally. No time to write? It may help just to think about someone who has done something nice for you, and mentally thank the individual.
Keep a gratitude journal. Make it a habit to write down or share with a loved one thoughts about the gifts you've received each day.
Count your blessings. Pick a time every week to sit down and write about your blessings — reflecting on what went right or what you are grateful for. Sometimes it helps to pick a number — such as three to five things — that you will identify each week. As you write, be specific and think about the sensations you felt when something good happened to you.
Pray. People who are religious can use prayer to cultivate gratitude.
Meditate. Mindfulness meditation involves focusing on the present moment without judgment. Although people often focus on a word or phrase (such as "peace"), it is also possible to focus on what you're grateful for (the warmth of the sun, a pleasant sound, etc.).
We at Junk Buddy are extremely grateful for you!
Ready to order your dumpster to clear out that space quickly? Hit the easy button and call a Junk Removal Service today.
Junk Buddy serves Pinellas County, Tampa and New Port Richey and we will provide a free, no-obligation on-site estimate. When you call us, our friendly customer service can give you a rough estimate of prices based on your information you provide, but it's our truck team who will provide an accurate quote when they arrive. You can book online or call us at 727-729-9765. Sit back and relax while our truck team handles the hard work and hauls your junk away.