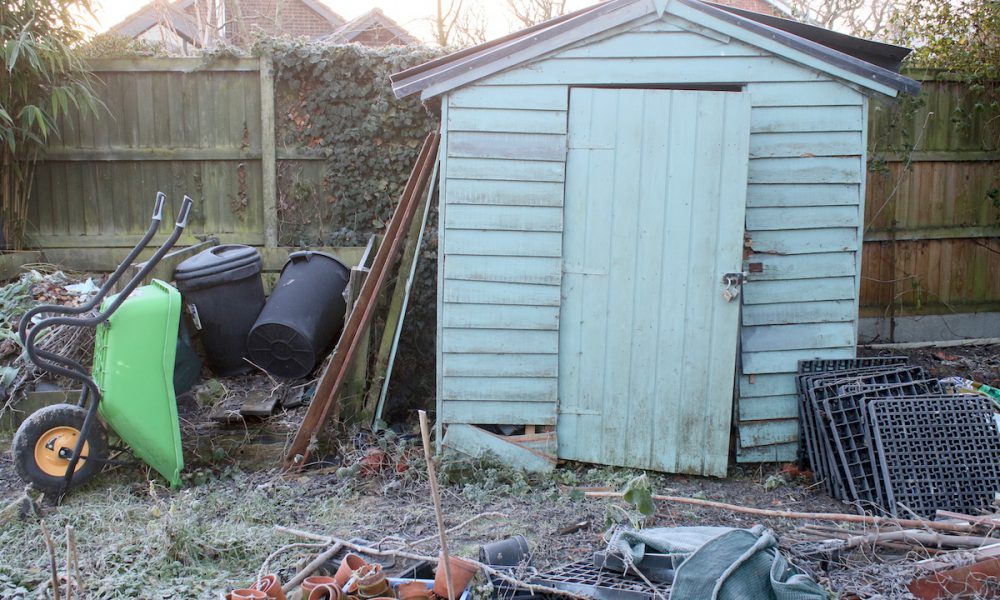 As we are continuing with the hurricane season in the Tampa Bay area, what are you doing to prepare if a storm comes up? Many times we aren't proactive in getting ready and end up battling for the last gallon of water at the store or waiting an hour in line for gas. But what about your yard? Are you taking precautions to make sure it's clean and free of debris and objects that could be potentially hazardous to you and your neighbors? When winds become strong enough almost anything can become a projectile. Don't waste time, get your yard ready by removing junk before it's too late!
Examples of Junk to be Removed
Here's some examples of junk you might have laying around your yard that you need to get removed before the next hurricane:
Old Shed
If you have a shed that is not properly secured or cannot properly close this can be destroyed during a storm.
Most sheds are filled with lawn tools that can also become potentially dangerous if picked up by wind during a hurricane.
The best thing to do is clean out the shed and determine what you'd like to keep and move it to a safe area, like inside your home.
Finally, have the shed and old tools removed and hauled away by professionals.
Old Lawn Furniture
Those old chairs and tables that have been sitting in your backyard for years are sure to be thrown around during a hurricane.
Not to mention that rusty old, above ground fire pit you never use anymore.
Get old yard furniture removed by professionals before it becomes a hazard.
If you have furniture that you wish to keep, be sure to secure it safely inside your home or in a safe area outside.
General Yard Debris
Big branches and sticks, rocks and leftover parts and pieces from projects all need to be removed.
Anything that is on the lighter side can easily be picked up by storm winds. Rocks and branches can cause major harm to your home or your neighbors home.
Two Ways to Remove Junk
There are two ways to easily get your junk removed:
Let the professionals take care of it all!
Rent a dumpster and remove the junk yourself
If you have the manpower and will to do it this may be the most convenient method for you!
No need to make runs to the dump or rent a truck and drive it around all day.
Simply set up your appointment, Junk Buddy will drop off the dumpster and then when its full they will haul it away for you.
Hurricane preparation is not something to be taken lightly. There are many ways you can be proactive when it comes to storms. From replacing old windows to having backup water ready to getting the junk in your yard removed. These are all vital things that need to be taken care of. Be ready this hurricane season.
Online Booking
We are a local professional junk pick up service to provide amazing service and make your life easier. We handle single item furniture removal, haul away yard waste, construction debris, provide light demo work such as shed removal, carpet removal, hot tub removal, cabinet removal, playground removal, and bulk trash removal.
Book online today!
Select your two-hour arrival window.
Our junk removal specialist will arrive ready to work.
Free quote, we get started and haul away the junk!
Junk Removal
Friendly, uniformed gentlemen will come to you, do all the lifting for you, clean up and haul away your junk. It includes same day service, labor, post job sweep up, time saver, cost-effective, and dump fee.
We can help you. Junk Buddy serves Pinellas County, Tampa, and New Port Richey, and we will provide a free, no-obligation on-site estimate. When you call us, our friendly customer service can give you a rough estimate of prices based on your information you provide, but it's our truck team who will provide an accurate quote when they arrive. You can book online or call us at 727-729-9765. Sit back and relax while our truck team handles the hard work and hauls your junk away.