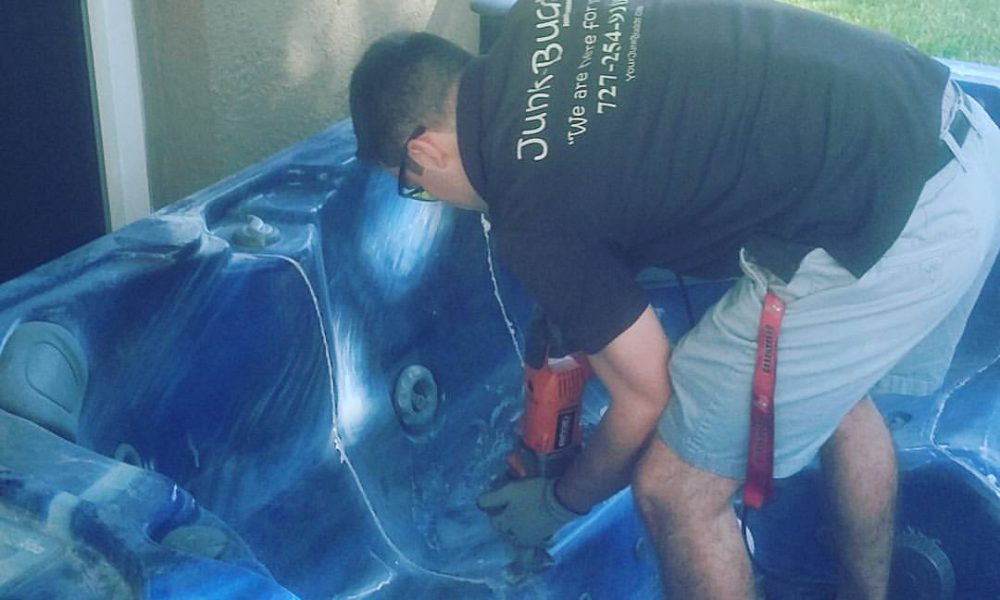 So, you've made the tough decision to remove your hot tub. Hot tubs are relaxing and enjoyable but can be very costly to fix or sometimes they just take up too much valuable space on your deck or porch.
It can be a daunting task to have your hot tub removed if you try to do it yourself. Hit the easy button and select a Junk Removal specialist that is trained to meet your needs, break down and remove the hot tub for you in a safe and professional manner while respecting to your home and property.
Considerations:
Not only is the process very labor intensive, but once you have the hot tub broken apart, you'll need to think about:
How to break it apart?
Where to haul the pieces?

What vehicle will they fit in?

Where to responsibly dispose and/or recycle the various parts?
What to expect on your hot tub removal appointment:
Professional uniformed truck team will arrive on time
Access the hot tub and the safest way to remove the spa
Provide your free no obligation estimate
Remove the spa
Clean the area
Haul it away for proper disposal & recycling
Hot Tub Removal FAQS
Do I need to empty out my hot tub before it gets picked up?
Yes, it will save time if you drain all water and disconnect any hoses which may connect to your hot tub. To drain the water from your hot tub, attach a garden hose to the hot tub's bottom drain spout and check that is connected firmly. Open the spigot and allow the tub to drain.
Do I need to disconnect my hot tub before it gets hauled away?
It is recommended that you disconnect your hot tube before your appointment or let your junk removal service do it. The first thing you should turn off is the heater on the side of the hot tub and switch it off at the main supply. If you are not sure, contact your local plumber or ask your junk removal service. Second locate the circuit breaker for the hot tub and turn it off.
Will a hot tub fit in a Junk Removal truck?
Yes, when you contact a professional hot tub removal and disposal professional, they will have the proper equipment to dispose or recycle your hot tub.
Why Do People Look for Hot Tub Removal?
Whether you are remodeling your spa space, removing the outdated or nonworking eye source, or selling a home with an old hot tub, chances are you will need to get rid of it. Hot tubs are large, heavy and cumbersome, so hauling them to the dump yourself or putting them on the curb for the garbage collectors to pick up is rarely a practical option.
Which option sounds better to you? Hit the easy button and call a Junk Removal Service today.
Junk Buddy serves Pinellas County, Tampa and New Port Richey and we will provide a free, no-obligation on-site estimate. When you call us, our friendly customer service can give you a rough estimate of prices based on your information you provide, but it's our truck team who will provide an accurate quote when they arrive. You can book online or call us at 1-877-910-5865. Sit back and relax while our truck team handles the hard work and hauls your junk away.