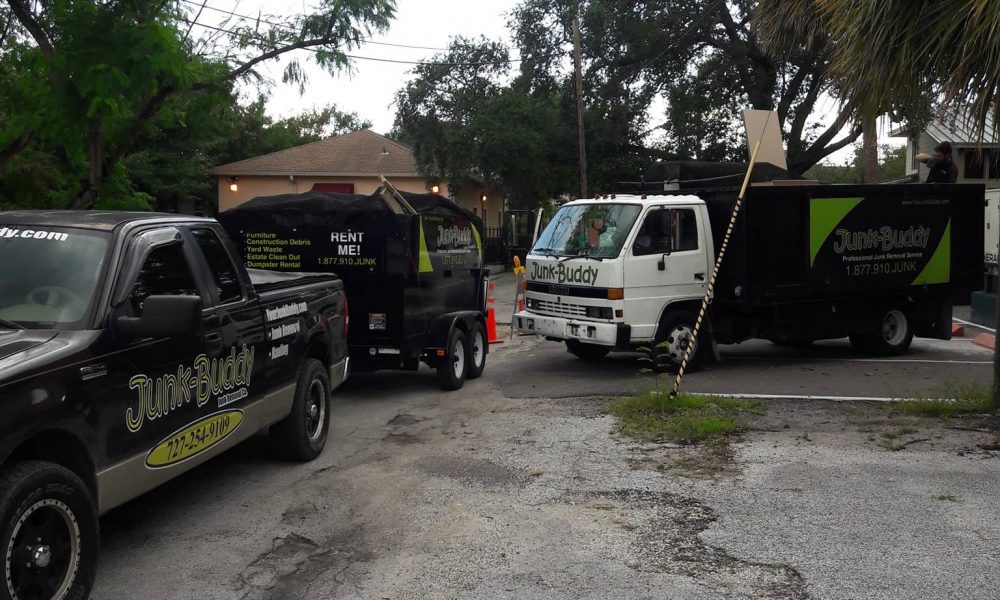 1. Serves Tampa Bay Area
Junk Buddy Junk Removal Services was established in 2015 with the idea to have a positive impact with amazing service. Each day we go out into our community remove and haul away the junk in a professional manner for you. After our truck team leaves, we do our best to donate and recycle before heading to the local transfer station. Our customers feel great knowing they don't have to break a sweat to get their clutter clean and by using our Junk removal service they'll have a positive impact on the environment and people in need.
Junk Buddy serves the Clearwater, Dunedin, Largo, New Port Richey, Oldsmar, Palm Harbor, Pinellas Park, Safety Harbor, St. Pete, Tampa, Tarpon Springs and Wesley Chapel areas.
2. Junk Buddy's Mission
Our mission is simple – to help those in need! Our entire team here at Junk Buddy is dedicated to helping those in need in our community.
3. Junk Buddy Donates Locally
Junk Buddy's team donates to local charities throughout the area as much as possible. Our founder every year donates his time and one of the trucks in the fall to help a local school for charity pick-ups. We are all about making a positive impact.
4. We Hire Hard Working College Students
If you have hired Junk Buddy's Junk Removal team, you'll notice that we hire college students. Our friendly, uniformed and professional gentlemen who do all the lifting for you, clean up and haul away your junk. College students are having a huge positive impact in our community. They work hard long hours to get a degree and be a part of society giving back.
5. Full-Service Junk Removal Company
We are a full-service junk removal company with many different services to offer.
6. Same Day Service
We can get the entire job done in one day or less with same day service.
7. Professionals
When hiring Junk Buddy, you hire a professional company that has rules, hires professional and even shows up in a uniform so you can trust the service and job we are about to do.
8. Insured
We are insured. Have peace of mind knowing that we have the proper insurance for our team members, vehicles and your property.
9. Labor Included
We provide professionals on site to handle all the dirty work and heavy lifting. Don't break your back. Leave your items right where they are. We will pick up the items from right where they are so you can relax and know that they job is being handled properly from straight to finish.
10. Post Job Sweep Up
We will sweep up the area we worked in when finished or if you have a vacuum handy, we will gladly vacuum the carpet area where the items were sitting.
11. Time Saver
There is an on-time service with us. We understand that you are busy. That's why we will arrive within the 2-hour time block agreed upon & always give a 20 to 30-minute courtesy call before our arrival.
12. Donate or Recycle to Local Charities
After our truck team leaves your home or business, we do our best to donate and/or recycle your junk before heading to the local transfer station.
13. Dump Fee Included so no Illegal Dumping
We handle the dump fee costs after we leave and dump off your junk. There will NEVER be any illegal dumping with us.
14. Individuals / Families / Businesses
We work with individuals, families and businesses.
15. Hot Tub & Spa Removal
Hot Tubs are fun but costly to fix or sometimes just take up space on your deck or porch. So, are you ready to have your hot tub hauled away? Great! Junk Buddy is a trusted name in spa removals. We know it might seem like a daunting task to have you hot tub removed. Our Junk Removal specialists are trained to meet your needs and remove the hot tub for you in a safe and professional way with respect to your home or property.
16. Old Shed Removal
Not only will we remove everything in your aging shed and sort for donation, recycling, and disposal, we will also demo the entire structure and remove all of the debris when we are done! No matter what your shed is made of – wood, sheet metal, plastic, or any other material – a professional at Junk Buddy will empty it out and take it down safely and quickly.
Relax! It can be a daunting task to have your playground removed if you try to do it yourself. Hit the easy button and select Junk Buddy. We are trained to meet your needs, break down and remove the playset that once served your family in a safe and professional manner while respecting to your home and property.
18. Estate Clean Out Service
Junk Buddy Junk Removal Services specializes in handling your Estate Clean Out. We provide a knowledgeable and professional truck team that is ready to take away the worry, stress and complete the estate clean out for you so that you don't have to lift a finger.
19. Dumpster Rentals
Are you a DIYer and have junk that needs to be hauled away? Now you can use our "Rent A Buddy" drop off Trailer to handle that small renovations, attic Clean out, garage clean out or just to remove some old furniture off your property. The Rent A Buddy Drop off trailer is a great way handle your task to clean out your garage, home, remove yard waste or handle small renovations projects.
20. Free estimate on-site
You will receive a free estimate on-site before we ever get started to make sure you are getting an accurate quote and fair price.
21. Online booking
We have a convenient online booking system accessed through our website. We accept cash, check and credit cards.
22. Blogs
Junk Buddy posts blogs regularly for "how to" information, area attractions and items of interest to our customers. Check out our blogs.
Hit the easy button and call your favorite Junk Removal Service today!
Junk Buddy serves Pinellas County, Tampa and New Port Richey and we will provide a free, no-obligation on-site estimate. When you call us, our friendly customer service can give you a rough estimate of prices based on your information you provide, but it's our truck team who will provide an accurate quote when they arrive. You can book online or call us at 727-729-9765. Sit back and relax while our truck team handles the hard work and hauls your junk away.