March Madness is here! Junk Buddy wants you to be able to focus on basketball and let us focus on removing your junk. Here is some information about March Madness from the NCAA. Good luck with your team!
Selection Sunday
This Sunday is Selection Sunday for the full March Madness field of 68 teams to be revealed.
Selection Sunday in 2019 is scheduled for March 17.
The First Four begins Tuesday, March 19, in Dayton, Ohio.
The first round of the tournament begins on Thursday, March 21.
Regional sites in 2019 are Hartford CT, Salt Lake City UT, Des Moines IA, Jacksonville FL, Tulsa OK, Columbus OH, Columbia SC and San Jose CA.
Official printable NCAA bracket
Here is the official printable NCAA bracket for the 2019 NCAA Division I men's basketball tournament, also known as March Madness provided by NCAA.com.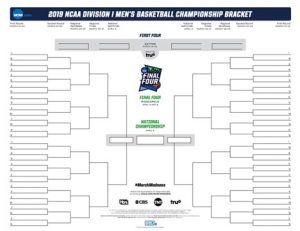 Tickets

Here is information on how to get tickets to any of those sites, and the Final Four in Minneapolis.
How are March Madness teams selected?
According to NCAA, there are two ways that a team can earn a bid to the NCAA tournament. The 32 Division I conferences all receive an automatic bid, which they each award to the team that wins the postseason conference tournament. Regardless of how a team performed during the regular season, if they are eligible for postseason play and win their conference tournament, they are selected to receive a bid to the NCAA tournament. These teams are known as automatic qualifiers.
The second avenue for an invitation is an at-large bid. The selection committee (more on them in a second) convenes on Selection Sunday, after all regular season and conference tournament games are played, and decides which 36 teams that are not automatic qualifiers have the pedigree to earn an invitation to the tournament".
When is the NCAA national championship game?
A champion will be crowned in the NCAA national championship game April 8 in Minneapolis. Semifinals games will be played two days before on Saturday, April 6, when the winners of each regional face off for a chance to play in the championship game.
Junk
If you have a room that needs clearing out or an entire home, hit the easy button and select a Junk Removal specialist that is trained to meet your needs, break down and remove the items that you have deemed trash. Just make a phone call and schedule a date.
Junk Removal
Friendly, uniformed gentlemen will come to you, do all the lifting for you, clean up and haul away your junk. It includes same day service, labor, post job sweep up, time saver, cost effective and dump fee.
We can help you. Junk Buddy serves Pinellas County, Tampa and New Port Richey and we will provide a free, no-obligation on-site estimate. When you call us, our friendly customer service can give you a rough estimate of prices based on your information you provide, but it's our truck team who will provide an accurate quote when they arrive. You can book online or call us at 1-877-910-JUNK. Sit back and relax while our truck team handles the hard work and hauls your junk away.